Posted on
Saturday, March 16, 2013 at 2:36PM
Happy St. Patrick's Day! When I hear this exclamation my first few thoughts are: shamrocks, parades, and beer (green optional!). When it comes to decorating though, there are many other ways to bring a bit of Ireland into your home. For me Ireland conjures up images of lush green pastures dotted with sheep, stone walls covered in lichen, and a hazy aqua mist.
(source)
(source)
The best thing about decorating personal spaces is that every person has their own interpretation of what something means to them. We always try to incorporate meaningful funiture and accessories into our redesign because that's what makes each space truly unique. Below are some rooms we found that could have been different interpretations of Ireland based on the pictures above. What does Ireland mean to you?
Interiors:

KITCHEN
Misty Green backsplash with cool toned silver chairs and vent hood.
DINING ROOM
That misty feel is provided by the view from the window and frosted glass doors. Wool pendant lamp and light green chairs.

Tropical Dining Room by Hong Kong Interior Designer Clifton Leung Design Workshop
LIVING ROOM
Cozy up with deeper hues, a velvet green couch, and plaid curtains and pillows.

Traditional Family Room by San Francisco Interior Designer ADEENI DESIGN GROUP
FOYER
Matte gold mirrors provides glamour and reflects light in a foyer or entryway, more practical than a pot of gold.

Contemporary Entry by New York Interior Designer Glenn Gissler Design
PATIO
Misty greens in the artwork and pillows mix with lush green plants against a neutral backdrop.

Eclectic Patio by Portland Photographer CAROLE MEYER

BEDROOM
Green grasscloth adds texture and color to this bedroom wall.

Contemporary Bedroom by San Francisco Interior Designer Modern Organic Interiors
Products:
Maybe your interpretation of Ireland would include a few smaller details, such as a cozy knit throw or these really fun felted rocks!!

Contemporary Throws by Other Metro Restoration Hardware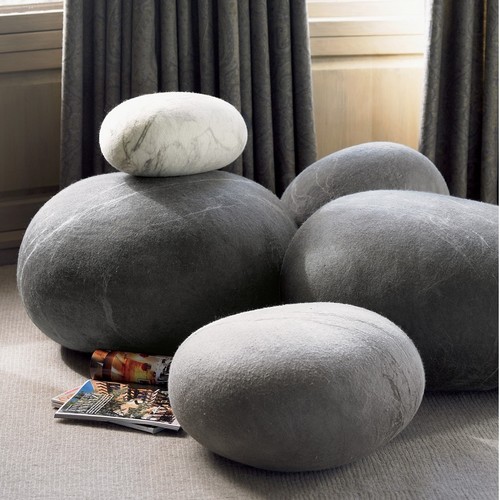 Pillow with soft plush turf by Firmly Planted.

Sláinte!
Contact us | like us on Facebook | Follow us on Pinterest | Talk on Twitter | call at 973.944.0188